Favorite Snacks in the Magic Kingdom
By kelli on March 6th, 2012
There are so many snacks to eat and enjoy while visiting Walt Disney World.  One of the most memorable snacks is the popcorn on Main Street USA.  When you get the first whiff of the fluffy goodness, you can't help but to run over to the nearest cart to buy a treat!  Of course, you can buy as little or as much popcorn as you like.
But can you ever have too much popcorn?  I don't think so!  The popcorn on Main Street is simply better than any other in the world!  It has the right amount of salt to corn ratio.  This coupled with the buttery aroma is enough to send me into a feeding frenzy!  And of course you have to buy one of the available cold beverages to wash it all down.  My personal favorite is an icy cold cola!  So the next time you are pulling up a piece of pavement to watch a parade, make sure to grab a tub of popcorn and enjoy!
More info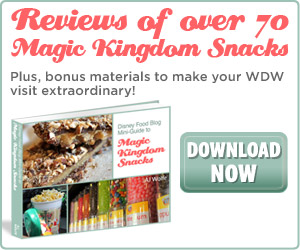 Code:
Click here to view more details
Leave a Reply
Related Articles
Brown Derby Cobb Salad


Approximately 63,000 Cobb salads are served every year at The Hollywood Brown Derby at Disney's Hollywood Studios. The original ...
Where in Disney World Raffle


Enter our raffle to win a $25 iTunes Gift Card! a Rafflecopter giveaway
« Holiday Sale for Disney Prints – Merry Christmas from Walt and Mickey – Disney Photo of the Day »